Weather Delays & Closings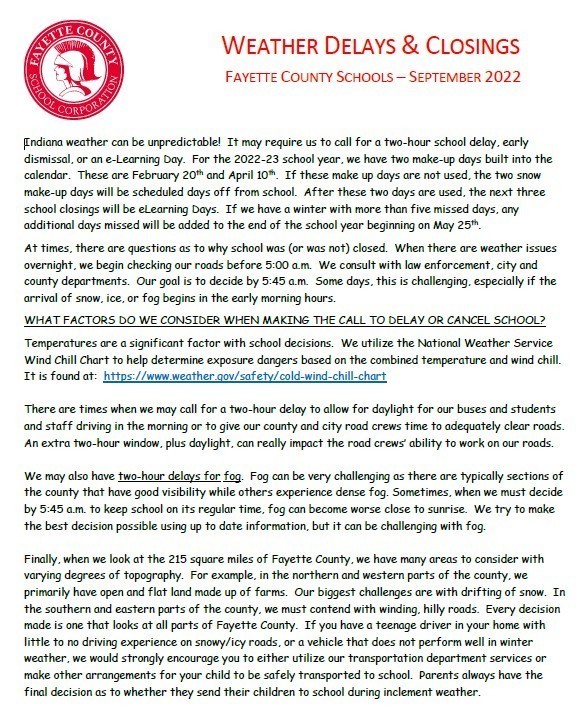 CHS Students will be released at 2:50 on Friday, Sept. 16 so teachers can participate in professional development.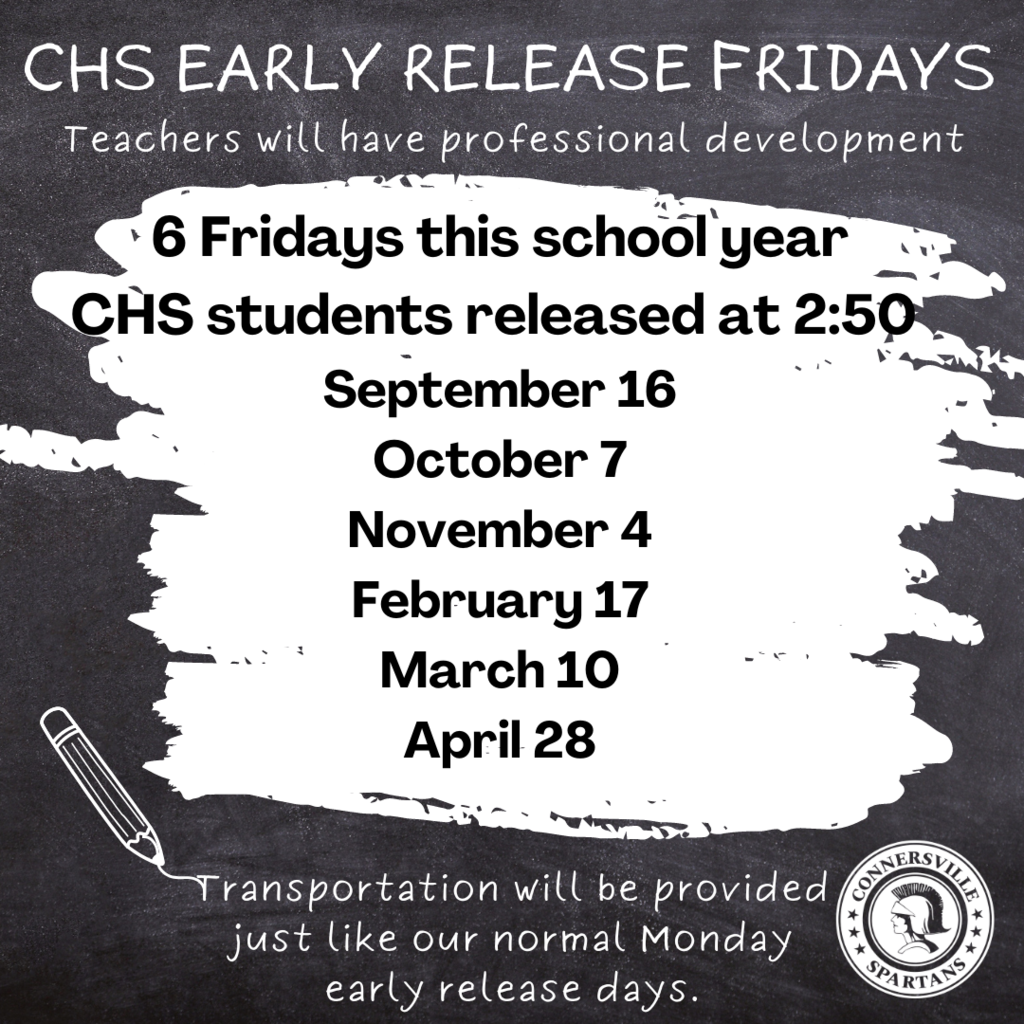 At tonight's FCSC Board meeting, Trent Liggett was approved as the CHS Interim Principal for the 2022-23 school year. Congratulations to Mr. Liggett as he makes this transition effective Wednesday, September 14th.

Due to the death of a CHS student in an auto accident, CHS we will have counselors at school from 9:00-3:00 tomorrow, to help students in the grieving process. Please join me in keeping the student and the family in your thoughts and prayers.

CHS has an opening for a PE assistant. Candidate will be required to earn lifeguard certification. The position is for each school day, seven hours, per day. Go here to apply:
www.fayette.k12.in.us/page/human-resources
#fcscspartanpride #chsspartanpride


Graduation is at 2:00 on Sunday. It will be streamed live! Go to: Youtube.com/LocalTV3 #fcscspartanpride #chsspartanpride

Great news! Herff Jones will be here tomorrow, June 1, from 10 AM-4 PM, in the New Fieldhouse, to deliver caps and gowns. Cash and credit cards will be accepted. #fcscspartanpride #chsspartanpride

• Parade: The Senior Parade will take place tomorrow, 11:00 AM. Seniors should be at the CHS football parking lot and ready to leave in a vehicle by 10:40. Vehicles may be decorated. Please be sure to include your name on a sign on the vehicle to identify yourselves. The parade will leave the parking lot at 11:00 AM. Once we leave CHS we will take a right turn on Shawnee and take a left on to Ridge Rd to 3rd St (State Rd 44). We will turn right on 3rd St. and proceed to Central Avenue. We will turn left on Central and proceed to Park Road. We will take Park Road to 30th St and turn left. From 30th Street we will turn left on Grand Avenue and the parade will end and vehicles can disperse after we pass Spartan Bowl and CMS. Any legal type of vehicle may be in the parade. Remember to yield to drivers who may be crossing the parade route. We are allowed to go through red lights and stop signs, but proceed with caution.

Congratulations to all FFA members on their awards tonight! It was a great meal and the award ceremony was impressive. Great job sponsors and members! #fcscspartanpride #chsspartanpride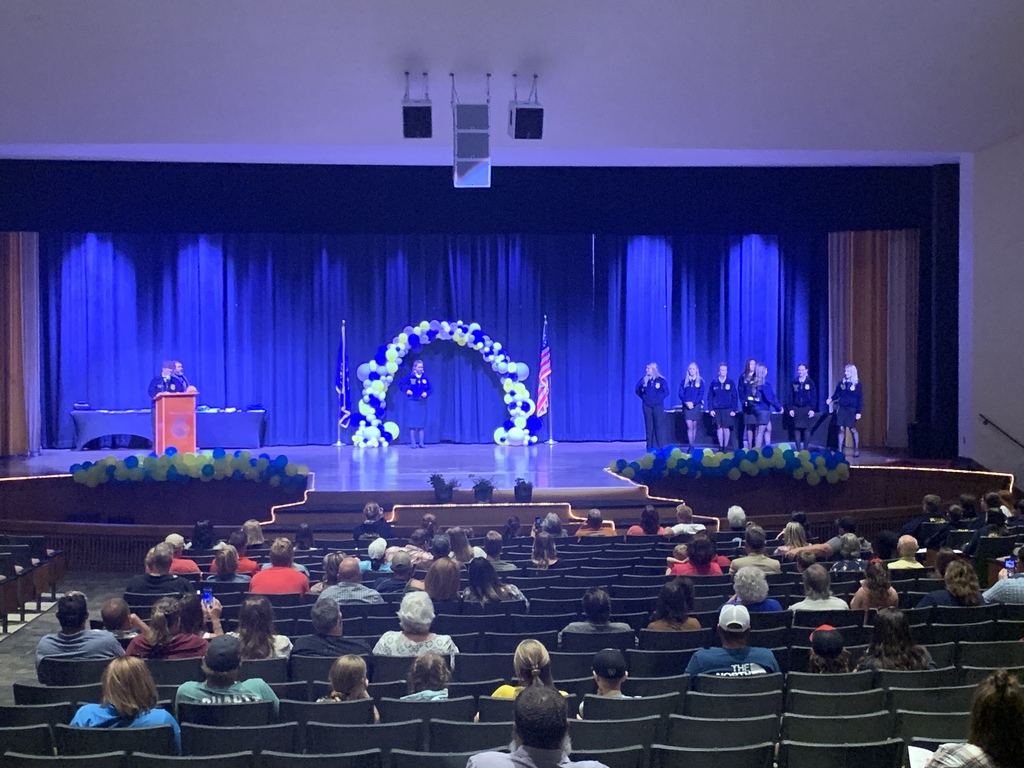 Congratulations to all CHS seniors who worked hard to qualify for participation in the Ivy Tech graduation ceremony this year. We are watching and can't wait to see what you do next! 43 CHS seniors completed their Indiana College Core Pathway and qualified to participate.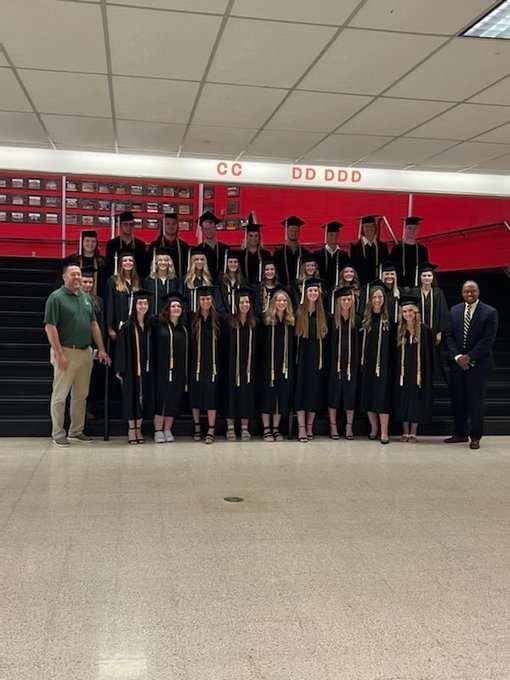 Congratulation to the SSN class from CHS Today. They have been awarded first place in the National Alliance for Community Media: Sports Coverage Live Competition Student for the coverage of Lady Spartan Basketball vs Centerville. Students who participated are: Emily Tuttle, Cooper Kinney, Nathan Shawl, Lucas Barron, Camden Schonfeld, Will Chalker, Jace McMichael and Austin Lancaster. This is a national competition and the awards ceremony will be held in June in Chicago, Illinois.

Congratulations to CHS teacher, Paula Shouse, for being named the Teacher of the Year for Fayette County School Corporation. She received word of the honor from Superintendent, Scott Collin and Assistant Superintendent, Kim Corsaro, today. #fcscspartanpride #chsspartanpride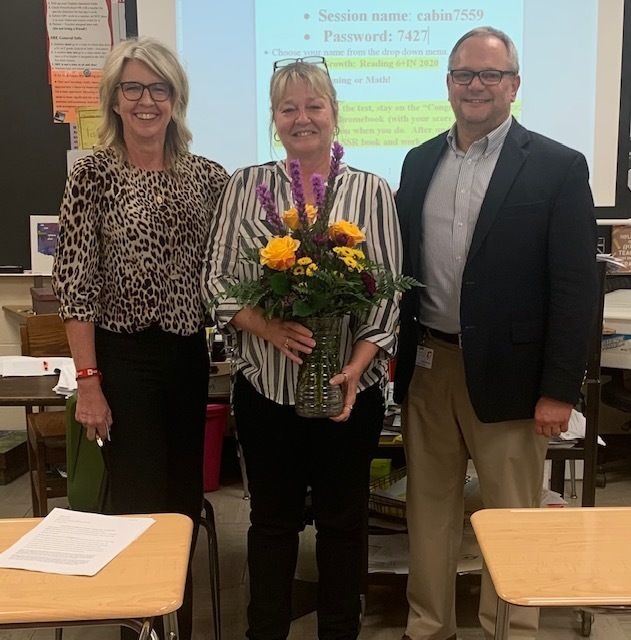 Gleaners has a bonus food drive today, 4-6, at the old KMart parking lot.

Congratulations to the 2022 ISTAR students and teachers (L to R: Crystal Phelps, Brooke Sudhoff, Madison Mullins, Julie Judd, Morgan Keaffaber, and Michael Lathery) Each student nominated teachers who contributed to their scholastic development. #fcscspartanpride #chsspartanpride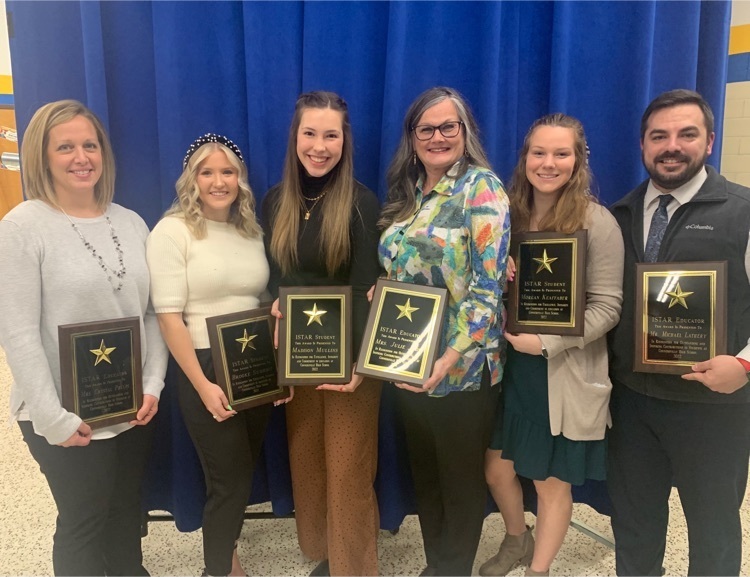 Effective today, February 26, 2022, masks will not be required on school buses. If any students or staff members wish to wear masks on buses, they are welcome to do so.

The Advanced Mixed Ensemble earned Gold with Distinction and the Advanced Women's Ensemble earned a Gold Rating on Saturday, at the state solo and ensemble contest. Congratulations to all choir students who participated! #fcscspartanpride #chsspartanpride

The CHs Choir participated in the State Solo & Ensemble contest on Saturday. Soloists who earned Gold with Distinction: Ben Bischoff Kyle Burkhead Maggie Hancock Aaron Vanover Soloists who earned a Gold Rating: Elle Jones-Wright Orin O'Brian #fcscspartanpride #chsspartanpride

We celebrate the 1972 State Basketball Champs on Tuesday, in honor of the 50th anniversary of winning the title. Members of the team will be introduced when our current team is announced.#fcscspartanpride #chsspartanpride

Fayette County Schools are on a 2-hr delay today, Feb. 18. Be safe